Esports RESOURCES
for HIGH SCHOOL and COLLEGE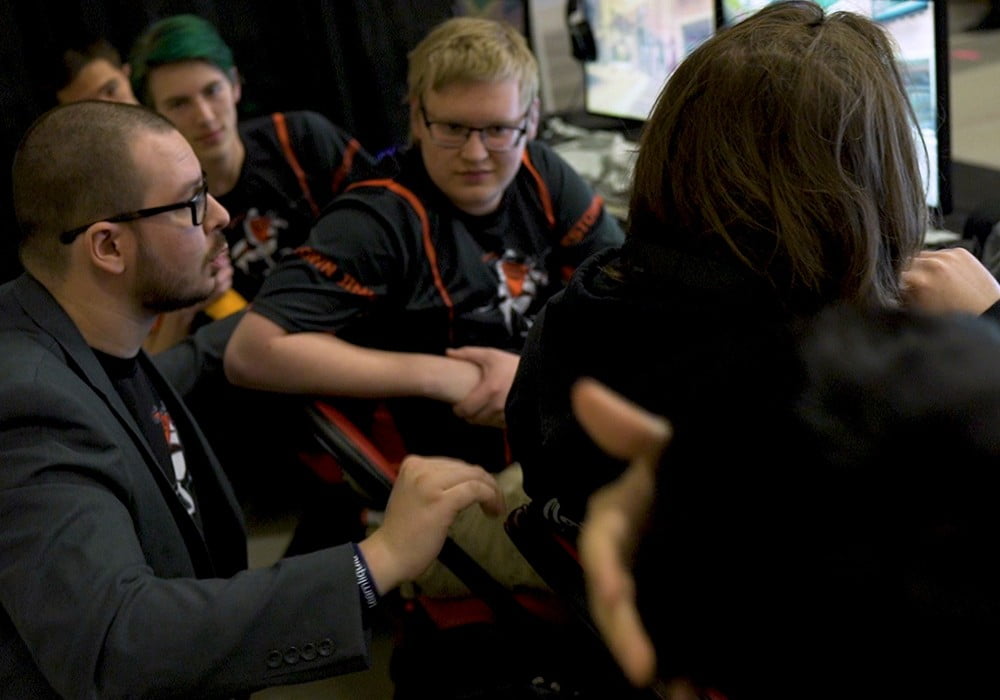 Starting an esports program at your school is a great way to engage more students in an interactive, skill-building, school-sponsored activity. Participants gain confidence, grow friendships and develop skills that will help them through high school and beyond.
We hope you can use the helpful resources below for starting or growing an esports program at your high school or college.
Benefits of an Esports Program:
Esports opens a number or doors for students socially, competitively, academically, and professionally.
Students learn soft skills like communication, critical thinking, teamwork, and leadership that are applicable in and out of the classroom.
Esports programs offer a sense of belonging and community that give students more ownership in their schools.
Competitive esports teams provide outlets for students who are not interested in "traditional" sports.
Esports encourages students to improve or maintain good grades so they can stay eligible and participate in their program's activities
Esports encourages students to improve or maintain their attendance, and increase their participation in class.
Hundreds of colleges across the country have recognized the advantages of having esports programs, and many offer scholarships to be a part of their respective programs.
There are a growing number of colleges that are developing degree programs centered around esports careers or fields related to the esports industry.

National Association of Esports Coaches and Directors
Founded in 2019, NAECAD is the primary professional organization for competitive esports coaches and directors at all levels of competitive play (club, high school, college, and professional).
The NAECAD mission is to serve, legitimize, and advance competitive esports at all levels with NAECAD members at the epicenter of leadership, advocacy, and professional development.
HIGH SCHOOL
OPPORTUNITIES
There are a number of opportunities across the county for high schools to join organizations offering competition and other resources to their member schools. Nationwide/regional organizations include:

NASEF
NASEF's mission is to provide opportunities for all students to use esports as a platform to acquire critical communication, collaboration, and problem-solving skills needed to thrive in work and in life.

PlayVS
From National Federation of High Schools and state association recognized varsity esports leagues to regional, interstate competition — the PlayVS platform powers esports in a way that meets any school's needs.

HSEL
HSEL strives to make esports available to every student as a legitimate varsity level sport in high schools across the nation. They achieve this by making it easy for faculty to offer students an opportunity to engage in healthy esports competition, surrounded by peers, and supervised by teachers.
State-specific Scholastic Esports organizations include:
| | | | | |
| --- | --- | --- | --- | --- |
| ORGANIZATION | STATE | WEBSITE | CONTACT PERSON | CONTACT EMAIL |
| Garden State Esports | NJ | Gsesports.org | Chris Aviles | |
| Iowa High School Esports | IA | Iahsea.org | Ali Vandermyde | Avandermyde@iahsea.org |
| Esports Ohio | OH | Esportsohio.org | Nick Rider | riderman@esportsohio.org |
| Missouri Scholastic Esports Federation | MO | Mosef.org | Tony Gragnani | TonyG@mosef.org |
| Washington State Scholastic Esports Association | WA | Wssea.games | Jason Dilley | jdilley@swsd101.org |
| Texas Scholastic Esports Federation | TX | Texsef.org | Danielle Johnson | danielle@texsef.org |
| Indiana High School Esports Network | IN | Ihsen.info | Nate Thompson | nate@ihsen.org |
| Wisconsin High School Esports Association | WI | Wihsea.org | Mike Dahle | mdahle@wishea.org |
| Pennsylvania Scholastic Esports League | PA | Cciu.org/psel | Kammas Kersch | kammask@cciu.org |
| Florida Scholastic Esports League | FL | Flsel.org | Laylah Bulman |   |
| Illinois High School Esports Association | IL | Ihsea.org | Todd McFarlin | Ihsea.org@gmail.com |
| Nebraska Schools Esports Association | NE | Nebraskahsesports.com | Ryan Hinds | Ryan.hinds@cune.edu |
| Michigan High School Esports Federation | MI | Mihsef.org | Zach Garner | info@mihsef.org |
| Oklahoma Esports League | OK | Oesl.org | | |
| Georgia Scholastic Esports Foundation | GA | Gsef.org | Wes Byrd | |
Collegiate esports opportunities lie in a number of different regional, national, and game specific organizations. Each organization provides their own competition, resources, and benefits depending on the type of organization and who their members are.
National Association of College Esports 
NACE is a nonprofit membership association organized by and on behalf of their member institutions. Together, their members are developing the structure and tools needed to advance collegiate esports in the varsity space. NACE is collaborating to lay the groundwork in: eligibility, path to graduation, and competition & scholarships.
Unified Collegiate Esports Association
UCEA looks to unite the collegiate ecosystem by creating a space for high-level competition without the multiple barriers of entry. They aim to expand the varsity level by creating opportunities for the students by empowering staff, creating competitions, offering resources and partners and much more.
Collegiate Starleague
CSL is a leading provider of collegiate esports leagues, tournaments, and support for collegiate esports programming and development. They host competition in a number of titles each year at various levels of play and utilize WorldGaming Network ("WGN"), a leading gaming platform that facilitates tournaments, leagues and gaming ladders for the amateur, semi-pro, and competitive gaming community both online and in live venues.
Riot Association of America
RSAA is the governing body of College and High School League of Legends. Their mission is to govern varsity competition for Riot's games and foster the development of gaming as a meaningful and complementary part of the high school and college experiences.
College Carball Association
With 230 established chapters, over 250 developing chapters, and 4500+ Members, the CCA is the Official Collegiate Rocket League Community.
College Call of Duty
College CoD is a collegiate competition born from talent and drive, built grassroots by students for students. Teams come from all over the US + Canada to compete in Call of Duty and revel in the experience and community.
Collegiate Rainbow Six Siege
CollegiateR6 is the largest and premier university Rainbow Six Siege League and Community in North America. Their season is designed to give top tier competition for all teams at all levels of play. Their system allows for teams to have fierce regional competitions while also giving young, developing teams the opportunity to succeed.
Looking for Group
LFG is a platform where students can search for collegiate esports programs and find information to inform their college choice. Their goal is to help students find communities of like-minded gamers while engaging in meaningful work as students and learners.
LFG is also a platform where students can connect directly with coaches and directors who are actively searching for new players to join their teams.
BeRecruited
BeRecruited is the largest college recruiting network, serving more than 2 million high school athletes looking to play at the next level. Their student athletes represent more than 80% of U.S. high schools and have made over 25 million connections with college coaches. In addition to serving more than 2 million athletes, BeRecruited serves over 30,000 registered college coaches and 25,000 registered high school and club coaches.
Next College Student Athlete
Headquartered in Chicago, Illinois, NCSA is now the world's largest and most successful college athletic recruiting network. With a network of 35,000 college coaches and more than 750 employees, NCSA assists student-athletes in 34 sports find their best path to college.