About ByteSpeed
Headquartered in Moorhead, Minnesota, ByteSpeed has been a leading IT solutions resource since 1999. We provide customized computer hardware, enterprise networking solutions, and professional IT services nationwide.
"Quality doesn't cost, it pays!"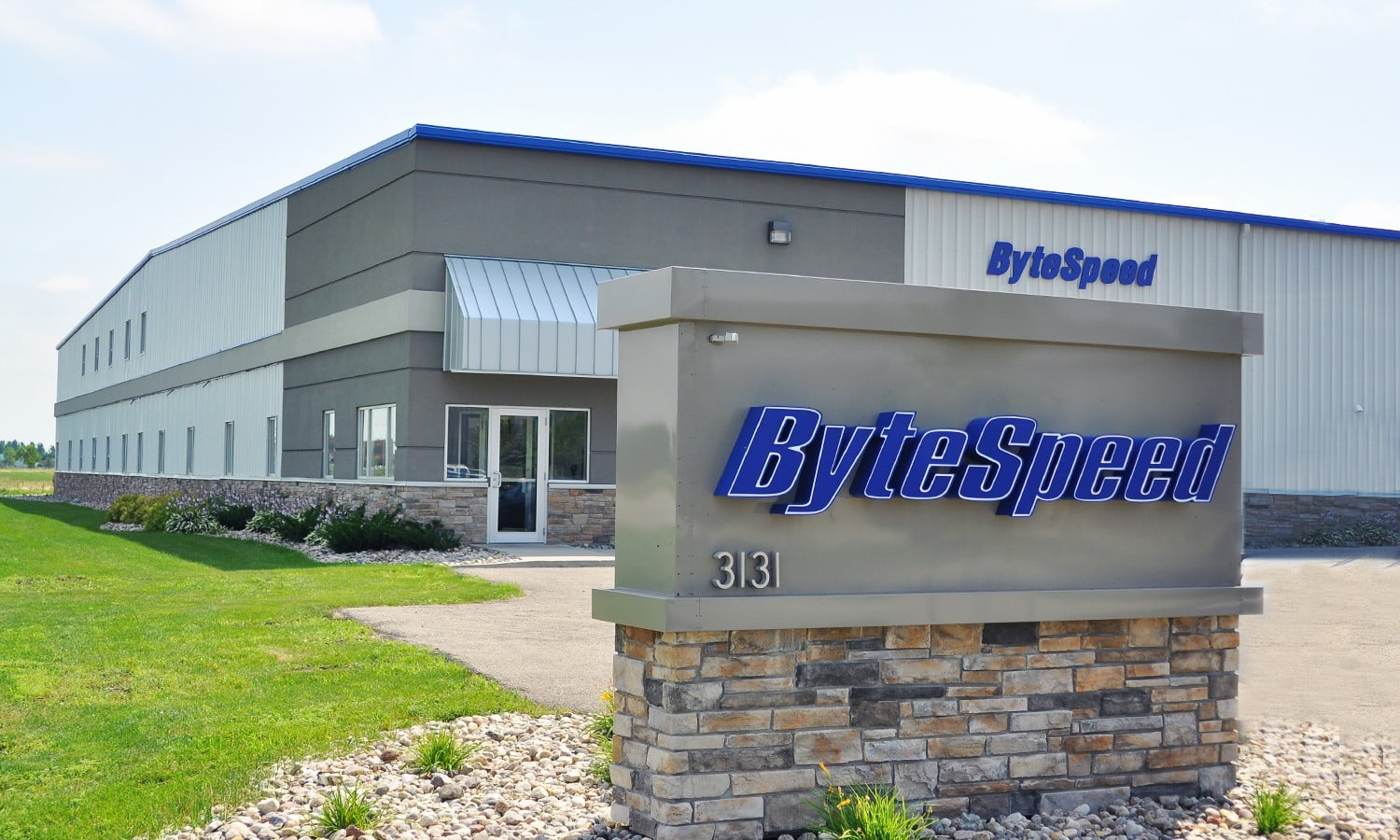 ByteSpeed has been a leading IT solutions resource since 1999. In addition to custom building computer hardware, ByteSpeed also leverages strategic partnerships to sell other quality technology solutions. We provide enterprise networking solutions and professional IT services in all 50 states across the nation.
ByteSpeed offers many value adds, including free shipping, free imaging, free lifetime tech support on ByteSpeed branded equipment, risk-free evals, free custom bulk packaging, on-site parts closets, reliability, fast support, and competitive prices. You can't go wrong with ByteSpeed!
Our team has a proven track record of excellent customer service and a strong focus on offering a personal level of service.
ByteSpeed is proud to employ a motivated and talented team of professionals who work hard toward our common goal of delivering the ultimate experience for our customers.
INDUSTRY PARTNERS
ByteSpeed strategically picks industry partners whose products and services inspire and enable us to do far more than we could alone. These include ASUS, Lenovo, Juniper, Ruckus, Barracuda, Cachebox, Kingston/Hyper-X, Samsung, and many more.
TECHNOLOGY PARTNERSHIPS
ByteSpeed is an Intel Titanium Technology Partner. We are also a Top 25 system builder for Intel, and we are one of the top Direct Microsoft OEM resellers.
BIG ENOUGH TO SERVE YOU,
SMALL ENOUGH TO CARE
ByteSpeed is proud to provide personalized service & support.
If you have an issue, just make us aware of it, and we'll take care of it! Feel free to call, email, use our support portal, or send us a Live Chat message.
Visit our Support page for more details: www.bytespeed.com/support
RISK-FREE
TECHNOLOGY EVALUATION
"Try a Byte" Today!
ByteSpeed offers a 30-day risk-free evaluation to test many of our products and experience our outstanding customer support.*
ByteSpeed offers a risk-free trial evaluation that allows you to test many of our products and experience our outstanding service and support first hand.
ByteSpeed will build a machine to meet your specifications and deliver it to you at no charge. No paper work or purchase orders, just let us know the specifications and we'll take care of the rest.
Please call 877-553-0777 or email sales@bytespeed.com to request your free evaluation system today!
*Some product exceptions apply.
When you buy a ByteSpeed computer, you are purchasing the service of our entire staff. We build the highest quality systems, with the highest quality standards. As with any product, a computer is only as good as the support given by the company that built it.
Warranty
BYTESPEED'S INDUSTRY LEADING WARRANTIES
ByteSpeed's industry leading warranties take the risk out of computer purchases and make your investment more affordable. ByteSpeed understands that your computer equipment is vital to the success of your organization, and that is why we provide top-notch support throughout the entire life of your ByteSpeed branded equipment with expertise from our dedicated in-house support team to resolve issues quickly to minimize downtime.  
ByteSpeed is committed to honoring and maintaining our warranty. Our account managers and support team work closely with you to quickly resolve any warranty issues.
SERVERS AND DESKTOPS
ByteSpeed servers and desktops have a 5-year warranty*. Gravity Gaming by ByteSpeed esports desktops have a 2-year warranty (upgrades are available). NOTE: Some high-end custom builds might not follow this guideline. Please reference your invoice or contact ByteSpeed support.
LAPTOPS
ByteSpeed laptops have a standard 3-year/2-year/or 1-year warranty (depending on model), plus a 1-year warranty on the laptop battery.
WHAT IS COVERED UNDER WARRANTY?
Defects in materials and workmanship
Standard manufacturer's warranty applies to non-ByteSpeed branded hardware (EX: Lenovo or ASUS laptops, Ruckus APs, Juniper switches, Cradlepoint routers, Spectrum laptop carts, etc.)
Normal hardware failure
WHAT IS NOT COVERED UNDER WARRANTY?
Vandalism and intentional damage
Theft or loss
Improper use that is not in accordance with proper care of equipment (spills, drops, etc.)
Acts of nature
Accidental damage
HOW TO REPORT A PROBLEM:
Using the ByteSpeed Serial number on the back of the machine is the easiest and most efficient way for our tech support team to track replacements, parts, or warranty issues (it will look like 20xx-xx-xxxx).
Any problems occurring in the first 30 days of use can be reported as DOA. ByteSpeed will immediately fix or replace all DOA machines.
Technicians can use ByteSpeed's online customer support system to submit repair issues, track repair issues, manage their inventory, look up the configuration of a ByteSpeed computer, and more. For a login to the support portal, contact helpdesk@bytespeed.com or your sales rep.
BYTESPEED HELP DESK
Please report any issues to ensure all ByteSpeed products are working properly. Contact ByteSpeed Support Mon-Fri 8am-5pm CST: 888.658.0715 or helpdesk@bytespeed.com.
SHIPPING WARRANTY PARTS
ByteSpeed guarantees all warranty issues are handled in a timely manner. Most warranty parts will ship the same day. Accelerated shipping is also an available option for crucial situations.
All ByteSpeed warranty parts will ship with pre-paid return labels for the bad part to return to ByteSpeed, with the exception of Chromebooks (customers who purchase Chromebooks are responsible for repair shipping, even if the system is under warranty).
ByteSpeed offers a custom parts closet option with quantity orders. The parts closet is in essence an extension of ByteSpeed's inventory on your site, it is only to be used for maintaining and repairing ByteSpeed computers. As parts are used from the parts closet, customers need to follow the standard RMA process to replenish new parts for their parts closet. This helps eliminate down time and makes warranty requests much easier for both ByteSpeed and our customers.
Shipping Liability Waiver
Thank you for choosing ByteSpeed for your technology needs. We strive to provide you with top-quality products and services. To ensure a smooth process for returning defective machines or parts, please review the following shipping liability waiver.
Responsibility for Secure Return and Packaging:
Clients are responsible for returning defective machines or parts in a secure manner. It is crucial to package the items in a way that minimizes the risk of damage during shipping. Proper packaging includes using appropriate materials and padding to safeguard the product against potential transit-related issues.
Charge for Missing or Damaged Parts
Clients acknowledge that a charge may be applied if returned parts are not received or if they come back damaged due to inadequate packaging. ByteSpeed reserves the right to assess a fee for missing components or damage incurred during the return shipping process.
Guidelines for Secure Packaging
To help ensure the safe return of defective machines or parts, please adhere to the following guidelines:
Use Original Packaging if Available: If possible, use the original packaging in which the product or replacement part was shipped to you. This packaging is designed to provide optimal protection.
Securely Seal All Boxes: Ensure that all boxes are securely sealed with strong packaging tape to prevent accidental openings during transit.
Use Adequate Padding: Use sufficient padding materials, such as bubble wrap or foam, to protect the product from impact and vibration during shipping.
Liability Waiver Agreement
By returning defective machines or parts to ByteSpeed, customers agree to the terms outlined in this shipping liability waiver. ByteSpeed is not responsible for any damage that occurs during the return shipping process if the items are not properly packaged. Clients understand and accept that charges may be applied for missing or damaged parts.
Contact Information
For questions or concerns regarding the return process, please contact our customer support team at helpdesk@bytespeed.com or 877-553-0777.
FREE SHIPPING POLICY
FREE SHIPPING MEANS MORE VALUE FOR YOU!
ByteSpeed is committed to giving you the most value for your money. That's why we offer reliable FREE shipping on purchases, RMAs, and warranty items (with the exception of Chromebooks).* And unlike many of our competitors, no minimum purchase is required. Free shipping is just another reason to look to ByteSpeed for all your computing needs!
*Chromebooks have free shipping on purchases, but customers must pay shipping on all repairs, even if under warranty.
NO MINIMUM PURCHASE
Purchase 1 or 5,000+ products.
ALL PRODUCTS QUALIFY
Even oversized products such as servers and laptop carts.
TRACK YOUR SHIPMENTS
Customers will receive an automated email with shipment information and tracking number. The ByteSpeed Vector Support Portal also enables customers to track UPS and FedEx shipments for RMAs, repairs, etc.
FREE SHIPPING DETAILS:
Free Shipping offer is available in the contiguous United States only. Orders shipped to Alaska, Hawaii or international addresses do not qualify for free shipping.
All ByteSpeed warranty items will ship with pre-paid return labels for the part that needs replacement (*with the exception of Chromebooks – see below). It is important to use this label so ByteSpeed can properly execute warranty requests. Most warranty items will ship the same day.
Expedited Shipping is available. Please contact your sales rep for custom quotes for expedited or custom shipping requests.
Free Shipping offer is NOT valid on items that are not covered under warranty.
Free shipping includes offloading products at delivery dock or front door.  Lift gate service for palletized freight shipments is also included (if customer doesn't have a loading dock). Inside Delivery Service is NOT included (delivery past the front door).
*Important Chromebook exception: Chromebooks qualify for free shipping on purchases, but customers must pay shipping on all repairs, even if the Chromebook is under warranty.
BYTESPEED DISASTER RECOVERY POLICY
REPLACEMENT SYSTEMS
If your organization suffers from a natural disaster, please contact ByteSpeed immediately. We will work with you to establish rapid recovery strategies and replace your ByteSpeed systems with comparable configurations in a reasonable amount of time. In addition, ByteSpeed guarantees that your recovery systems will be placed on the top of our system build list to ensure fast replacement.
DEFERRED BILLING
ByteSpeed offers a deferred billing option upon request for replacement machines due to natural disaster, allowing delay of payment until insurance claims are processed.
FREE SHIPPING
ByteSpeed offers free shipping on all purchases, including replacement machines due to natural disaster.
FREE IMAGING
ByteSpeed saves your image from your original purchase so we can deploy it on future systems with similar hardware, ensuring you get up and running quickly. If replacement machines are not compatible with your current image, ByteSpeed will overnight an imaging machine to create new images, ensuring you get up and running quickly.
QUESTIONS?
Please contact the ByteSpeed sales team regarding any questions or help you customize a solution that is perfect fit for your organization.
CONTACT US TODAY
Please call us at (877) 553-0777
BYTESPEED PRIVACY POLICY
HOW WE HANDLE YOUR DATA
ByteSpeed is committed to protecting your privacy. You can rest assured the information you provide us through our website will remain confidential and will not be sold to any third party for any reason. This means you won't have to worry about getting a lot of unsolicited email or postal mail based on the information requests and feedback forms you submit.
If there are any additional issues you would like us to address or clarify further, please let us know, and we will get back to you quickly with the information you need.
They Love Us,
They Really Love Us!
''It is nice to find a good ole' American company with Midwestern values. ByteSpeed stands behind their products and their goal is to make their customers happy."
Tami Sukup, Iowa
"Why do I buy all of my school's computers from ByteSpeed? The answer is plain and simple: customer service. I have dealt with other computer manufactures and nobody has come close to the personal touch and customer service I receive from ByteSpeed."
Dan Langbehn, DeSmet School District, SD
"ByteSpeed is the greatest! They bend over backwards to meet my needs, and their products are wonderful. I couldn't ask for a better computer with an excellent warranty and tech support. Their tech support is awesome! They will help me with my problems by walking me through step-by-step or just fixing it for me by sending the computer back to them no questions asked."
– Janna Brotherton, TN
"ByteSpeed has the best customer service of any computer manufacturer I have dealt with. Great prices, great customer service and technical support, plus a 5-year warranty included in the price are the reasons I have purchased ByteSpeed computers and servers. One last thing that needs to be highlighted – ByteSpeed's server support is the absolute best I have ever experienced."
– Joe Webb, WY
"The help from ByteSpeed is like having an extra tech person on my staff. The quality, reliability and value of ByteSpeed products are awesome. The people support and customer service is matchless."
– Ladonna Czachowski, IA