Gravity Gaming by ByteSpeed was founded on the principles of long-term partnership and support. We pride ourselves on not just being a hardware provider for esports, but a company who is truly invested in the future of your program, and the future of esports. Our dedicated team has the first-hand experience to provide the resources you need to be successful. Let us know how we can help your program!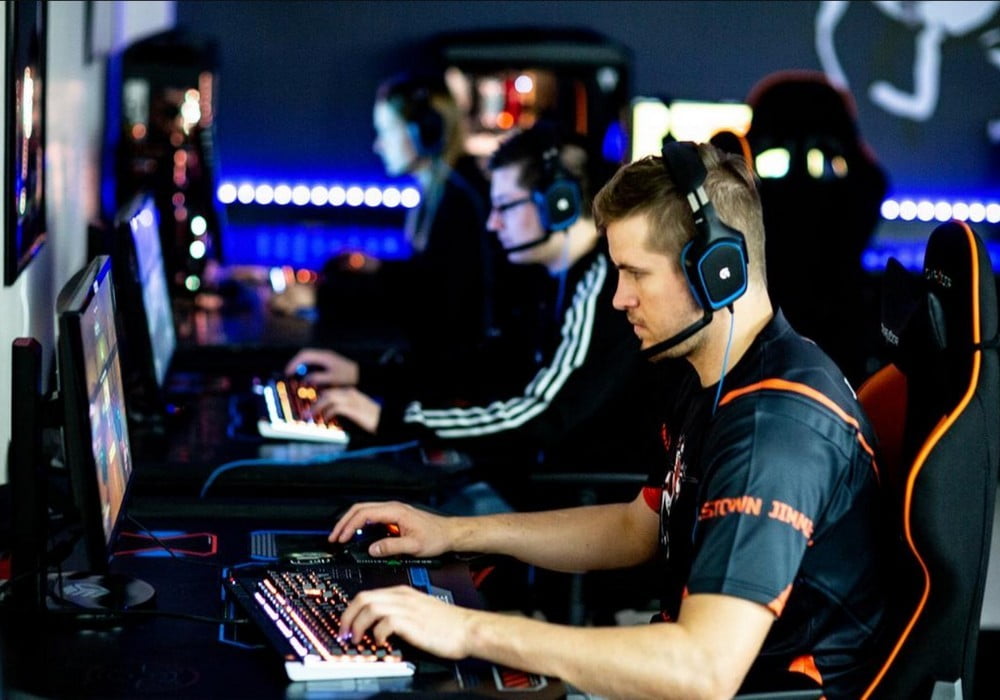 ENTRY-LEVEL GAMING AND VR
BeQuiet! Pure Base 600 Chassis
CPU:
Intel i3/i5/i7/i9 or
AMD Ryzen 5/7/9
CoolerMaster NR400 Chassis
Motherboard:
Asus TUF B760M-Plus WiFI or
Asrock B550 Pro 4
CPU:
Intel i3/i5/i7 or AMD Ryzen 5/7/9
Be Quiet PURE BASE 500 Window Black
Motherboard: 
ASUS Prime Z790 WIFI ATX – OR – ASRock B550 ATX Steel Legend
CPU:
Intel i3/i5/i7/I9 or
AMD Ryzen 5/7/9
InWin A1 Prime
Mini-ITX Tower
Motherboard:
Asrock B550I
PARTNERSHIPS AND HELPFUL RESOURCES
TO HELP YOUR ESPORTS PROGRAM SUCCEED

NAECAD COLLEGIATE ESPORTS GUIDE
Empowering Esports Students: Unlocking collegiate esports opportunities with the NAECAD Collegiate Esports Guide.

Broadcasting & Shoutcasting Gear
We offer a variety of pro-level broadcasting and shoutcasting gear, from stunning high res cameras to cutting-edge microphones and versatile lighting solutions that work together seamlessly.

Request a Free Consult
Our expert team can walk you through the steps of implementing your program, recommend customized esports pcs to fit your exact needs, and suggest resources for funding and competition!

Logitech G Peripherals
Through better gear and game integration, Logitech G facilitates an even greater gaming experience. Their gaming mice, keyboards, and headsets are designed for high-performance gaming.

Spectrum Esports Furniture
Evolve your esports program with Spectrum's complete line of innovative furniture to engage and integrate your esports space and help create a best-in-class esports facility.

esports funding
Check out this compilation of esports funding resources that will be helpful in your journey, whether you are starting an esports program, or upgrading an existing program.

Esports Resources
Check out these helpful resources and tips for high school and collegiate esports.

Esports Mobile Gaming Kit
Includes 6 gaming laptops, gaming controllers, headsets, mice, and a ByteSpeed W3 Portal with a Cradlepoint router in a ruggedized case.

Esports Webinars
Sign up for upcoming Esports Ed webinars focusing on different topics that are impactful to students, coaches, and directors involved in esports, and view previously recorded content.

Gravity Gamecache
The Gravity GameCache is a game install and update caching solution that is ideal for high school and collegiate esports teams, gaming clubs, and LAN parties.

vr-ready pcs
All of our high-performance gaming PCs are VR-Ready and contain some of the best graphic cards and CPUs on the market to meet the demands of popular VR headsets.

References
We encourage you to contact our references to learn more about our products and services from a customer perspective. Follow the link to request more information.
read our
Gravity Gaming Facebook Feed
They Love Us,
They Really Love Us!
"Gravity Gaming by ByteSpeed has been awesome! They care about the customer and add the personal feel to customer service. Our esports program has taken a huge step forward working with their help. It is a blessing that we locked in a partnership with such GREAT people!"
– Kris Weissmann, Director of Student Life and Esports
University of South Carolina Sumter
"Working with Gravity Gaming has been top notch. We could never have gotten that great of customer service, creative customization options, or help with creating team jerseys from a big chain company."
– Chris Hoke
University of Jamestown Esports
"Over the last 10+ years, our district has built a great partnership with ByteSpeed/Gravity Gaming. We purchased multiple gaming PCs with VR headsets for our high school STEM lab, which also enabled us to start an esports club. We look forward to working with the great staff at ByteSpeed/Gravity gaming to purchase other gaming items for our esports team."
– Chris Kuntzman
Taylorville CUSD #3, Taylorville, IL
How many PCs does it take to start an esports team?
The games you are playing and the minimum required seats for a starting lineup: Rocket League would be 3, League of Legends and many other titles have 5, and Overwatch 2 has 5 players. You may want to consider doubling that number to have a "Varsity" and "JV" lineup for each title so they can practice against each other in scrimmages during practice.
Should I look at desktops or laptops for my esports team?
This really will depend on two factors. First, what are the available spaces for your programs facility? If you do not have a permanent area for desktops to be housed, laptops give you the flexibility to move from space to space, or to store the machines during off hours for the program and free up the space for different uses during the day. The second factor is if your team travels or plans to travel frequently to LAN tournaments. "Bring your own computer" style events still happen, and if your team plans to be on the road often, laptops might be a better fit. A desktop, however, will have more options for parts – both at the time of purchase and later if you wish to upgrade or update.
ESPORTS IN EDUCATION
GRAVITY GAMING BY BYTESPEED