OPTOMA FOR BUSINESS AND EDUCATION
Whether you're outfitting an office or a school, Optoma offers a wide variety of interactive flat panels, projectors, LED displays, and more to meet every budget. Easy-to-install solutions, interactivity for hands-on learning and collaboration, along with a variety of connectivity options make Optoma solutions a smart choice. Their variety of business and education products make it easy to fit your unique space and requirements.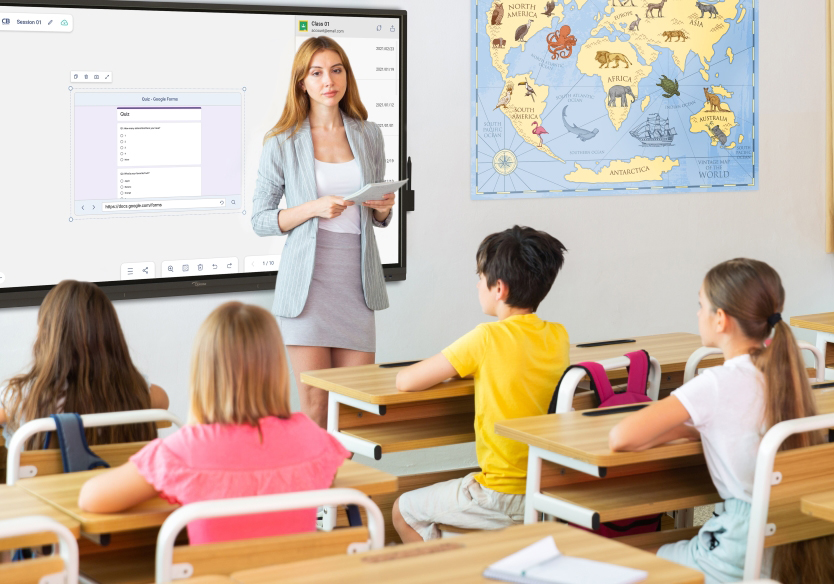 See For Yourself How
Optoma Enhances Interactive Experiences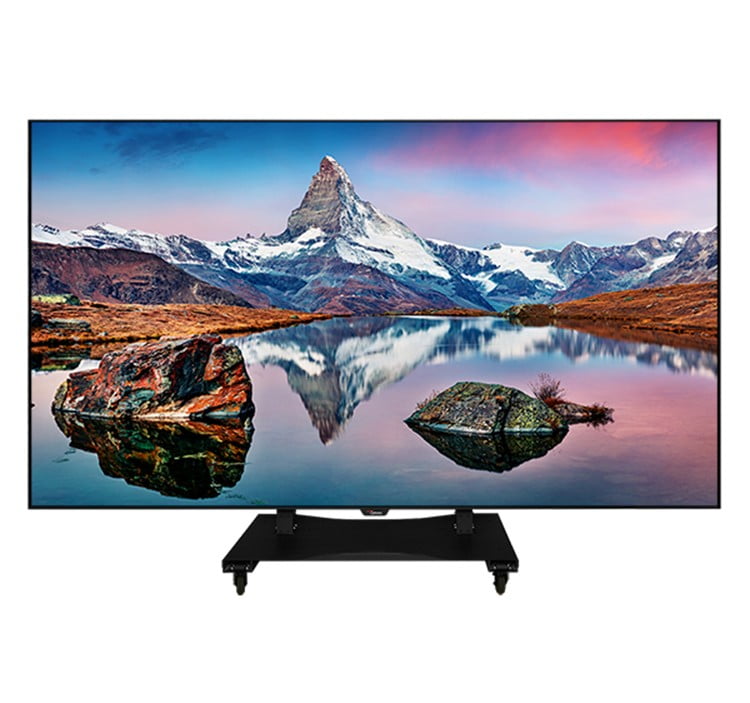 Innovative Visual and Audio Technology
Designed for Your Classroom or Office

Creative Touch Flat Panels
Connect to an interactive world. Engineered to enhance meeting spaces, the 5-series IFP packs a stunning LED-backlit 4K UHD panel, 178° viewing angles, anti-glare, anti-fingerprint glass, and cTUVus-certified low blue light filter.

ByteSpeed OPS Element
Simplify device installation and maintenance. The ByteSpeed OPS Element is a small-form factor PC that is simply slotted into an OPS compatible TV/panel for a fully integrated solution, making external mounting obsolete.

Creative Touch Accessories
From custom-designed wall mounts and easy-to-use remotes and pens, to PC expansion modules that provide extensive connectivity, Optoma offers a variety of accessories for every interactive application.

Business & Edu Projectors
Optoma offers the right projectors to meet every budget. Easy-to-install solutions, interactivity for hands-on learning, along with connectivity options make Optoma projectors a smart choice for any projection need.

LED Display Accessories
Maximize your LED experience. Optoma offers accessories that expand the capability of LED displays. From motorized stands, flight cases, replacement LED tiles and more, there's an accessory for all your LED display needs.

Detailed and Vivid LED Displays
Experience stunning, larger-than-life visuals with incredible detail and vivid colors with Optoma LED displays. Brilliant LED technology enables unmatched brightness ideal for any environment; retail, hospitality, rental, and more.

Contact References to Learn More
We encourage you to contact our references to learn more about our products and services from a customer perspective. Please follow the link to request more information.
They Love Us,
They Really Love Us!
"ByteSpeed's custom bulk packaging option is spectacular! Not only is there less waste, but it is much easier to get to the equipment. We would rather have that type of packaging for all my orders. Thanks so much!"
Tess Hill, Technology Coordinator
Switzerland of Ohio School District, Woodsfield, OH
"ByteSpeed has rarely led me astray. From NUCs and mini PCs all the way up to enterprise-grade servers, it's the brand about which we are most likely to say, "Oh yeah, that's still running." As an IT director, there's no higher compliment I can give."
Matt Bartenhagen, Director of Technical Operations
Williston Public School District #1
"Channelview ISD has been working with ByteSpeed for many years. After dealing with headaches from other vendors for years, we tested one of their NUCs out and were impressed by its performance, especially at that price. Then we heard about the 5-year desktop warranty and were sold. ByteSpeed not only delivers on hardware and variety, but their customer service is top notch. You get a real live person on the phone when you call. We have developed relationships with several people there, which is often missing in other vendors. ByteSpeed, along with the NUCs, has helped us to be able to regularly replace machines to keep students and teachers up to date with their equipment and we couldn't be happier about it."
Darrell Cheney, Director of Technology
Channelview ISD, Channelview, TX
"Our school district uses ByteSpeed products exclusively and will continue to work with them.  Their products, support, and service are second to none.  Customers are treated as the priority, and with a superior product, using ByteSpeed for our computing needs is a no-brainer!"
Marty Petrosky, Technology Director
Shanksville StonyCreek School District, Friedens, PA
What is aspect ratio?
Aspect ratio describes the width to height relationship of an image. The width and height are measured in equally sized units and are most commonly expressed by two numbers separated by a colon (i.e. 16:9, 16:10, 4:3). So, for example, a 16:9 image that is 16 inches in width, would be 9 inches in height. For more on resolution and aspect ratio, see Optoma's blog: http://blog.optomausa.com/post/aspect-ratios-and-native-resolutions
When would I need to use either a Short or Long Throw Lens?
Short throw lenses help create larger pictures from shorter distances — allowing users to create the big pictures they want, in tight spaces. Short throw lenses are commonly used in such environments as small conference rooms, small classrooms, trade show booths, and small home theaters. Long throw lenses help create smaller, more viewable images from greater distances, and are advantageous in large venues, particularly in fixed installations. Churches often require long throw lenses for worship spaces, because the projector is often mounted far away from the screen (e.g., behind the congregation). Without a long throw lens, the image would be too large.
You can calculate the throw distance needed by a projector by taking the throw ratio and multiplying it by the screen width.  For example a projector with a 2.0 throw ratio needs to be set up with the lens 200 inches from a 100″ wide screen (Throw ratio x screen width) = (2.0 x 100″)
What is the difference between maximum resolution and native resolution?
Maximum resolution is the highest resolution the projector can scale to. Native resolution is the resolution the projector can display mapping 1 to 1 pixels to the digital micro display chip, sometimes known as pure resolution. For more on resolution and aspect ratio, see Optoma's blog: http://blog.optomausa.com/post/aspect-ratios-and-native-resolutions
Request an Optoma Quote
Quote Form - Optoma Interactive Flat Panels & Projectors