Gravity Gaming by ByteSpeed was founded on the principles of long-term partnership and support. We pride ourselves on not just being a hardware provider for esports, but a company who is truly invested in the future of your program, and the future of esports as a whole.
Our dedicated team has the first-hand experience to provide the resources you need to be successful. Let us know how we can help your program!.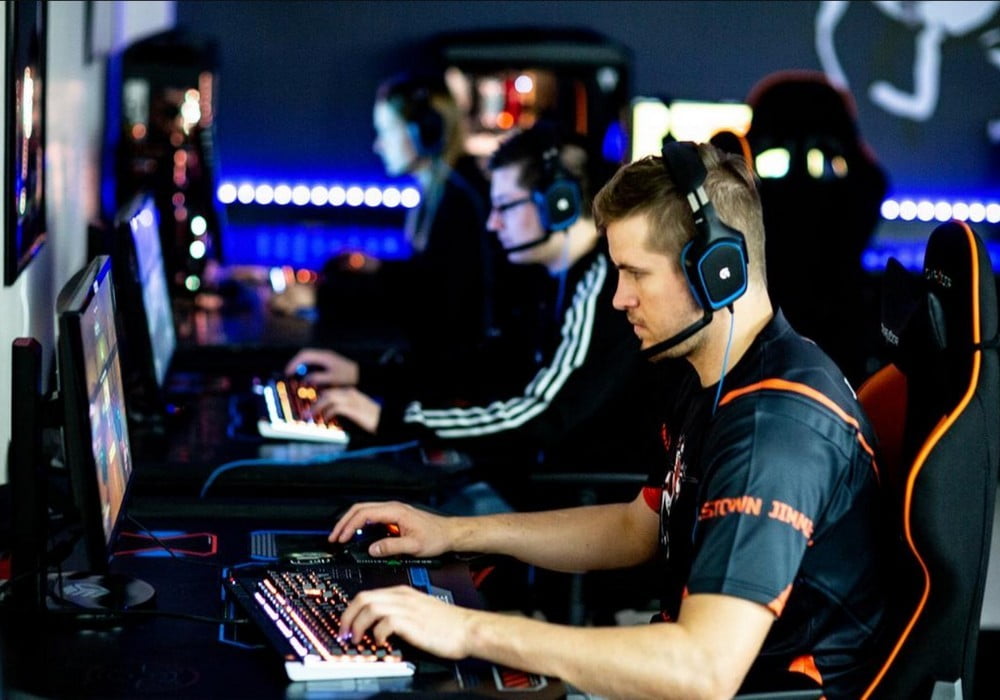 ESPORTS IN EDUCATION
GRAVITY GAMING BY BYTESPEED
HIGH-END CUSTOM BUILT
ESPORTS GAMING PCS
ENTRY-LEVEL GAMING AND VR
Motherboard: 
Asus TUF B460M-Plus WIFI or
Asrock B550 Pro4
CPU:
Intel i3/i5/i7 or AMD Ryzen 3/5/7
Memory:
Up to 32GB 3200Mhz CL16
CoolerMaster NR400 Chassis
Motherboard:
Asus TUF B460M-Plus WIFI or
Asrock B550 Pro 4
CPU:
Intel i3/i5/i7 or AMD Ryzen 5/7
Memory:
Up to 64GB 3200Mhz CL16
Custom Matte Black Intel Laptop
Motherboard:
Custom Intel variant
Memory:
Up to 32GB 3200Mhz CL16
Fractal Define Meshify Chassis
MB: Asus  TUF Z490 Gaming Plus or Asrock ATX B550 Steel Legend
CPU:
Intel i5/i7/I9 or AMD Ryzen 5/7/9
Memory:
Up to 64GB 3200Mhz CL16
InWin A1 Plus Mini-ITX Tower
Motherboard:
Asrock B550M-ITX/ac
Memory:
Up to 32GB 3200Mhz CL16
Motherboard: see individual product pages
CPU:
see individual product pages​
PARTNERSHIPS AND HELPFUL RESOURCES
TO HELP YOUR ESPORTS PROGRAM SUCCEED
REQUEST A FREE CONSULT
Our gaming experts can suggest customized esports PCs to fit your exact needs, recommend trusted resources for esports furniture, jerseys/apparel, mousepads, and more!
SCHOLARSHIPS FOR COACHES
We have partnered with Microsoft to provide NAECAD (National Association of Esports Coaches and Directors) scholarships for esports coaches and directors.
ESPORTS ED WEBINARS
Sign up for upcoming webinars focusing on different topics that are impactful to students and professionals involved in esports, and view previously recorded content.
ESPORTS FUNDING 
Check out this compilation of esports funding resources that we hope will be helpful in your journey, whether you are starting an esports program, or upgrading an existing program.
ESPORTS RESOURCES
Check out these helpful resources and tips for high school and collegiate esports.
Esports furniture
Gravity Gaming by ByteSpeed has many partner resources for esports furniture, including entry level gaming chairs and desks, as well as and high-end customizable options. Please contact us to request a custom quote.
Gravity GameCache
The Gravity GameCache is a game install and update caching solution that is ideal for high school and collegiate esports teams, gaming clubs, and LAN parties.
Logitech g esports peripherals
Through better gear and game integration, Logitech G facilitates an even greater gaming experience. Their gaming mice, keyboards, and headsets are designed for high-performance gaming.
The State of High-Performance Mobile Gaming
Blog post by Josh Knutson
August 18, 2020
For decades, gamers of all skill levels had to rely on large, bulky PCs. Players on the go either had to haul large home rigs from venue to venue or shell out large sums of money for lighter setups, sacrificing performance. Until recently, mobile gaming technology consistently lagged behind its deskbound counterparts, forcing esports athletes to choose between high-powered machines or travel-friendly devices.
As esports becomes increasingly popular, manufacturers have taken notice. 2020 has seen vast improvements on both the mobile chipsets and processors front, making it easier than ever to get a high-performance mobile device at a reasonable price point. While desktops . . . 
They Love Us,
They Really Love Us!
"Gravity Gaming by ByteSpeed has been awesome! They care about the customer and add the personal feel to customer service. Our esports program has taken a huge step forward working with their help. It is a blessing that we locked in a partnership with such GREAT people!"
– Kris Weissmann, Director of Student Life and Esports
University of South Carolina Sumter
"Working with Gravity Gaming has been top notch. We could never have gotten that great of customer service, creative customization options, or help with creating team jerseys from a big chain company."
– Chris Hoke
University of Jamestown Esports
"Over the last 10 years, our district has built a great partnership with ByteSpeed/Gravity Gaming. We recently purchased multiple Gravity Gaming PCs with the Oculus Rift VR for our High School STEM lab, which also enabled us to start an esports club. Our kids love the Gravity Gaming machines the best because they run our games so much better. We have a wide range of students participating in our esports club, with players ranging from 9th through 12th grade. It's awesome to see these students, who typically don't play other sports, work as a team and talk to other players. They encourage and help each other learn. We've had several students step up and become leaders. We have a couple teachers say they are shocked how some students talk about esports, because normally they are so shy and don't talk much. We look forward to working with the great staff at ByteSpeed/Gravity gaming to purchase gaming chairs and other gaming items for our esports team."
– Chris Kuntzman
Taylorville CUSD #3, Taylorville, IL
How many PCs does it take to start an esports team?
The games you are playing and the minimum required seats for a starting lineup: Rocket League would be 3, League of Legends and many other titles have 5, and Overwatch is the largest team at 6. You may want to consider doubling that number to have a "Varsity" and "JV" lineup for each title so they can practice against each other in scrimmages during practice.
Should I look at desktops or laptops for my esports team?
This really will depend on two factors. First, what are the available spaces for your programs facility? If you do not have a permanent area for desktops to be housed, laptops give you the flexibility to move from space to space, or to store the machines during off hours for the program and free up the space for different uses during the day. The second factor is if your team travels or plans to travel frequently to LAN tournaments. "Bring your own computer" style events still happen, and if your team plans to be on the road often, laptops might be a better fit. A desktop, however, will have more options for parts – both at the time of purchase and later if you wish to upgrade or update.